Three Investigators Movie Starring Maysville Native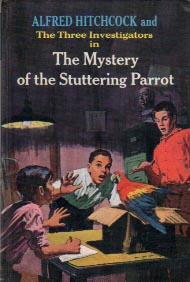 First Printed 1964
I am a huge fan of The Three Investigators book series. I remember being given
The Mystery of the Stuttering Parrot
when I was still in grade school and I didn't realize until I starting writing this article how much the exploits of Jupiter Jones, Bob Andrews, and Pete Crenshaw influenced my childhood. What child didn't want to start an amateur detective agency after reading these books?
Imagine my surprise, then, to find that the series is being adapted to film and that the lead detective character of Jupiter Jones will be played by 12 year-old native Chancellor Miller.
Chancellor was born in Lexington and raised in Maysville Kentucky. At the age of seven he began dancing and entered a local talent contest. In 2002 he booked his first major job doing print work for Procter and Gamble, in Cincinnati Ohio. From there it was a short time before he was starring in television shows and winning awards for his many talents. His most recent appearance was on Fox's Malcolm in the Middle, just yesterday : ) Full Bio / Interview with The Ledger
The first film being made is The Secret of Skeleton Island (two others are being made as well). I can't wait for the films to arrive in the United States. They are being produced by a German studio and will be shown there first before coming to the U.S. Expected release date here isn't until around Easter 2007. Grrrrr. Hollywood dropped the ball on this one but hopefully the German studio will come through for us fans.
The complete story on the movie can be found here.