Maysville Kentucky & the Railroad
Maysville has the fortunate position of not only being located on one of the nation's major waterways, but also on the rail service. This has played an important role in Maysville history as a center for traffic throughout the region. Its position along the Ohio River and the railroad is probably the leading cause for settlement in the area. The railroad is just as important today as the Maysville Depot is an active stop for those touring the United States by rail.
Here's a look at Maysville's Railroad history:

The Old C&O Depot, Maysville. Before being used as a depot, it was the C. B. Pearce home. Acquired for the depot on June 22, 1887.

C & O Passenger Train in Maysville.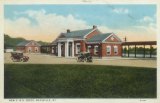 The New C & O Depot, Maysville, circa 1930. This became the depot on October 16, 1918.

Louisville and Nashville Depot, Maysville. Currently the Maysville Police Department.

President Eisenhower's Funeral Train passes thru Maysville, April 1, 1968.