Union Monument & Women in the Civil War
We were talking the other day in The Pulse about how Maysville Kentucky and Mason County were mostly sympathetic to the South during the Civil War. This isn't to say that there wasn't a strong Union presence as well. Probably because of its situation as a shipping port on the Ohio River, Maysville had to cater to both interests. A large gathering of Union proponents took place near Maysville in 1861. An artist who attended that event wrote: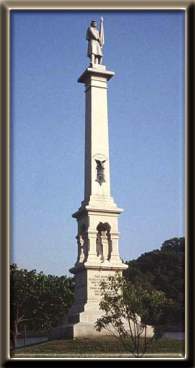 "This was the largest gathering I have seen for years. There were speakers from Kentucky, Ohio, and Tennessee. Among those from the last-named State was Hon. Horace Maynard. Colonel Charles Marshall, a prominent citizen of this community (Mason), contemplates the establishment of a camp in the vicinity of this place."
Maysville was also instrumental in shipping arms to Union troops on the frontlines in the South.
We quoted the blogger saying that "only one such monument was erected to Union soldiers and that was to the soldiers of mountainous Lewis County on the Court House lawn in Vanceburg." That's not entirely accurate. It is true that only a handful of Union monuments were built in Kentucky after the Civil War, but Mason County has one of these rare monuments in the Maysville Cemetery (pictured above). It was erected in 1887 to honor the men who volunteered in the Union Army from Mason County, Kentucky (perhaps the blogger meant directly after the Civil War).
What makes our monument unique is that it gives a nod to the role of women in the Civil War. In the nook of the second section from the bottom is a female figure personifying Memory. Very few war monuments across the board have any type of female presence, which is odd because they play such prominent roles in wartime. During the Civil War, they worked in hospitals, as spies for both sides, and in other capacities. There are even some documented cases of women dressing as men to fight alongside their husbands.